Law & Order: UK - Series Five
The cream of British acting talent are back together for the fifth series of the hugely successful 'Law & Order: UK'. For the first time we see a change of the lead cast with the departure of two members of the Crown Prosecution Service, Ben Daniels who was the Senior Crown Prosecutor James Steel, and Bill Paterson the CPS director George Castle.

Coming to the programme for the first time is Peter Davison as Henry Sharpe, Director of the CPS and Dominic Rowan as Jacob Thorne, Senior Crown Prosecutor.
Series Five : Episode Four : Tick Tock
Sunday, 31 July 2011 9:00pm - 10:00pm ITV1 / ITV1 HD
A night club peppered with bullets. Two victims bleeding out on the floor. The start of a deadly gun rampage through the streets of London. With the media swarming all over the case and a hostage to find, DS Matt Davlin (Jamie Bamber) and DS Ronnie Brooks (Bradley Walsh) are up against the clock as they try to track down the Bonnie and Clyde duo wreaking havoc on the city streets.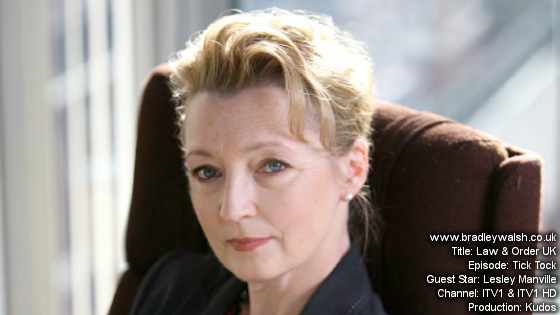 Capture is far from closure when defence barrister, Phyllis Gladstone (Lesley Manville), takes the case on, arguing that one of the pair was more innocent victim than violent killer. Did the defendant act out of fear - beaten and bullied into submission by her partner-in-crime, too terrified to escape and alert the police? With two sides to every story, the team are under pressure to make sure someone is held responsible for a murderous spree that cost five lives. Guest starring Louise Brealey.