The Chase
Bradley Walsh hosts the quiz show where each day four contestants pit their wits against The Chaser, a ruthless quiz genius determined to stop them winning at all costs.

The four strangers must work as a team, answering general knowledge questions and playing a strategic game in order to win themselves a potential prize pot worth thousands of pounds.

The contestants take it in turns to build a cash sum by answering quick fire questions against the clock. Each must then go head-to-head with The Chaser in a race to get their money into the team prize pot without being caught.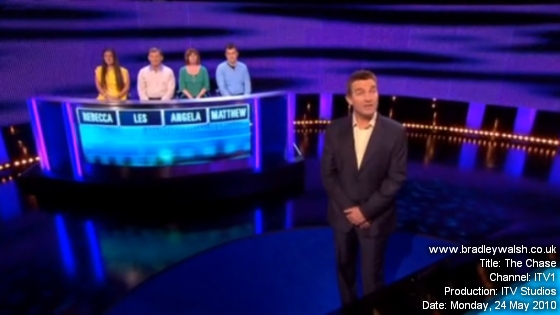 In the chase down the game board, every right answer moves the contestant a step closer to the exit, and every wrong answer gives The Chaser the chance to close the gap.

If the contestant gets out without being caught, their money is added to the team prize pot. However, if The Chaser catches them first, the money is lost for the team and the contestant is out of the game.

The game concludes with the remaining contestants entering a two minute quick fire round where each correct answer pushes them along the exit route.

They must then watch as The Chaser is given two minutes to catch up - if he doesn't reach them in time, the team prize money is split equally between the contestants. But if he succeeds in catching them, the team goes home with nothing...

Do you want to be on the show in 2013? Fill out an application form.