Coronation Street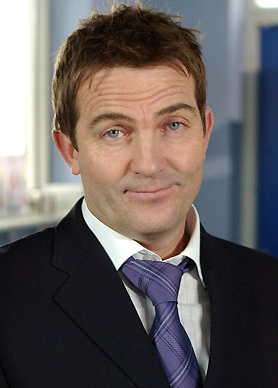 Danny Baldwin
Danny is first seen in the Street 28 May 2004 having recently broken up with his wife Frankie. He joined his "uncle" Mike in running the Underworld factory and started dating Sunita. However, Frankie soon tracked him down and they got back together. It was revealed that Frankie had cheated on Danny as revenge for Danny's numerous affairs. Danny's son Jamie (by his first marriage) also arrived in Weatherfield, and Danny had to pay a substantial amount of money to save Jamie from a prison sentence for beating up the man Frankie had been having an affair with.
Danny then had another affair, this time with his son's girlfriend Leanne Battersby, which was exposed in October 2005 by an overlooked phone message. Frankie dumped him, and Jamie disowned him. A couple of weeks later, Mike Baldwin was revealed to be Danny's father, not his uncle. As Mike began to deteriorate with Alzheimer's disease, Danny started plotting to ensure that he got as much of Mike's will as possible, finally inheriting his father's business as well as his other assets and cash, leaving his half-brother Adam with much less.
Danny begged Frankie not to go through with their divorce and to take him back. Frankie refused and the divorce went ahead. He was further heartbroken when she moved her new boyfriend into the former marital home. After arguing with Jamie, Danny accidentally proposed to Leanne, although he had no intention of marrying her and didn't love her.
After Frankie split with Nathan, Danny saw another chance to get back with Frankie, finishing with Leanne to show her how serious he was. However, this backfired on him as Leanne had a photocopy of Mike's most recent will (leaving everything to Adam), which she blackmailed Danny with for £50,000. After pleading to take her back, Danny refused and Leanne gave the will to Adam, who took legal advice to get what he was entitled to. Danny offered him various amounts of money for the share, until finally agreed to give Adam a 40% share. Adam soon sold his share to the Connor brothers for £80,000 in summer 2006.
In October 2006, Frankie decided to take Danny back. However, she began an affair with his son Jamie. When Danny found out, he was horrified and he ended up attacking Jamie violently underwater, almost killing his son in the process.
Jamie's long-running vendetta against Danny reached its climax in December. The pair had a heart-to-heart on the top of a viaduct, when Danny took Jamie with him to have a chat to him. Danny threatened to jump. This led to Jamie forgiving him for his affair with Leanne. Danny told Jamie that he loved him and to take his keys for the factory and his car and return to Coronation Street. Jamie asked him how he would prove that Danny had given him his possessions, so Danny wrote down for evidence. When Jamie reached for the note Danny leaned backwards to fall off the viaduct, Jamie grabbed his arm and pulled him back up despite the fact that Danny was taunting him to let go. Danny gave him the note and then walked off into the darkness despite Jamie's plea's. The episode ended in mystery as to what had happened to Danny.
Danny was subsequently declared a missing person. On 18 December 2006, the police revealed that they had pulled a body from the canal, but when Frankie went in to identify it, it turned out not to be Danny.
Having witnessed Jamie's potentially violent nature first hand and therefore suspecting that he had murdered Danny, Frankie ended her relationship with Jamie on New Year's Eve 2006 and fled to Essex. However, it was later revealed that Danny had been manipulating the situation from afar, when he phoned Jamie following Frankie's departure and sarcastically told him that he was sorry about their break-up. He also revealed that he had sold the flat. Thus, it turned out that Danny had deviously manoeuvred the situation so that Frankie believed that Jamie was a killer, consequently splitting them up.
It later transpired that Paul Connor had kept in contact with Danny and had informed him of Jamie and Frankie's break-up.