Professional Footballer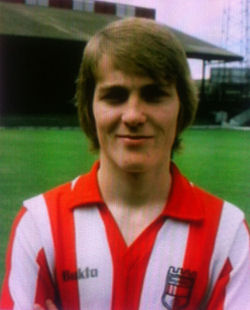 Comedian and actor, Bradley Walsh was a professional footballer at Brentford in the late 1970s for 2 years but never made the first team squad, due to injuries which eventually ended his career.

Before that he started playing on the Barnet youth and then for a team in the Hertfordshire County League, a Brentford talent scout spotted Bradley and signed him.

His love of football continued, being a keen supporter of Arsenal and even comentating on the FA Cup Final in 2002 for Sky where Arsenal won against Chelsea.

He plays for fellow ex-Brentford player Rod Stewart's team, the Vagabonds, in Surrey.

On 14 May 2009, Bradley played on the All Stars team against Liverpool Legends in the Hillsborough Memorial Match at Anfield in aid of the Marina Dalglish Appeal.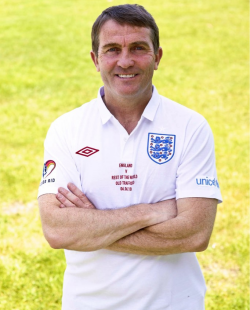 Bradley also played for Team England in both Soccer Aid 2006 and Soccer Aid 2010. Two days after Bradley's 50th birthday he scored from a penalty for England in front of 72,000 in Old Trafford and another 5.5 million viewers watching live at home. You can view the goal, and his celebration (as Bradley does on a daily basis).

For Soccer Aid 2012, Bradley hung up his boots whilst on top, and took on the role of England Coach, as he did as the character of Dave Dodds in the film Mike Bassett England Manager.

BRENTFORD F.C. (The Bees) - 1979/80 SEASON
Back row: David Carlton, Lee Holmes, Terry Benning, Bob Booker, Trevor Porter,
Pat Kruse, Len Bond, Jim McNichol, Dean Smith, John Fraser, Allan Glover.
Front row: Paul Walker, Dean Johns, Paul Shrubb, Steve Phillips, Jackie Graham,
Barry Tucker, Doug Allder, Dave O'Mahoney, Willie Graham, Bradley Walsh.