Law & Order: UK - Series One - Vice
Law & Order: UK' makes its long-awaited debut in the UK, meting out justice on the country's crinmals in this brilliant reimagining of the Emmy award-winning US drama.
Employing the original series' iconic two-part structure that focuses first on the investigation of a crime at the police level and then shifts in its second half to the prosecution of the suspects, 'Law & Order: UK' approaches the format and characters from a uniquely English perspective.
Series One : Episode Three : Vice
Monday, 9 March 2009 9:00pm - 10:00pm ITV 1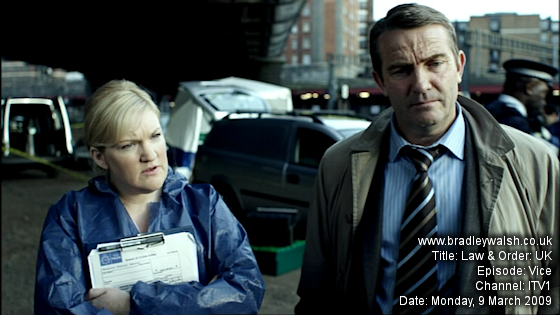 When ex-vice cop, Frank McCallum, is found beaten to death in an underpass, all clues point to a prostitute killing, but DS Ronnie Brooks and DS Matt Devlin soon realise solving the crime won't be so straightforward. They look more closely at Frank's life – what's his boss, Josh Pritchard, keeping to himself? And is his wife, Annie, hiding something?

Following forensic tests, the police are surprised to be led to a respectable clothes shop in Barnes to meet owners Emma Sandbrook and Kate Barton. But as the case gets increasingly difficult to piece together, the police don't know who to believe.

When the accused claims self-defence, Crown Prosecutors James Steel and Alesha Phillips are left doubting the victim's innocence. What really happened that night – did Frank instigate the attack that led to his death? Or is it all a web of lies?

As the CPS find themselves in a battle with formidable defence barrister, Phyllis Gladstone, proving the accused is merely out to slur a man who can no longer defend himself, isn't easy. But the truth will out and eventually justice, for Frank's wife, is done.