Law & Order: UK - Series Two - Love and Loss
The cream of British acting talent are back together for the second series of the hugely successful 'Law & Order: UK'.
Employing the original series' iconic two-part structure that focuses first on the investigation of a crime at the police level and then shifts in its second half to the prosecution of the suspects, 'Law & Order: UK' approaches the format and characters from a uniquely English perspective.
Series Two : Episode Five : Love and Loss
Monday, 8 February 2010 9:00pm - 10:00pm ITV1 / ITV1 HD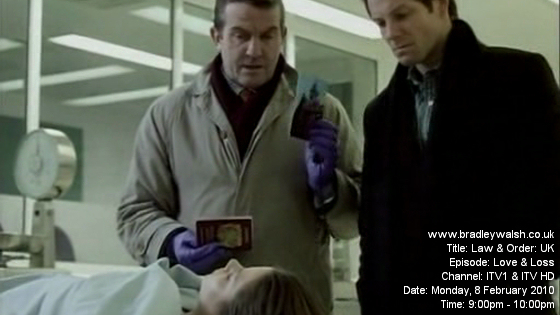 Love is the drug that motivates a bright teenage girl to act as a mule - and heroin is what kills her. Detectives Ronnie Brooks and Matt Devlin are called in to investigate when 18-year-old Debbie Powell dies from an overdose just after her return to Britain from a holiday in Thailand. She had a stomach full of condoms filled with drugs and they leaked. That much isn't unusual... But Debbie was from a well-off family, she had everything she needed and was about to start studying at university. Why would she risk her life for something she didn't need?

The detectives discover that Debbie had a life a lot more complicated than anyone knew, including her devastated parents. The two friends she was travelling with say she had a mysterious boyfriend who she was supposed to meet as soon as she got back to the UK. Brooks and Devlin track him down and discover Debbie wasn't the first young woman he had seduced and used to do his dirty work.

Senior Prosecutor James Steel puts the dealer on trial for drug importation and manslaughter. But James faces a brilliant defence barrister, Jason Peters and he loses in court. James isn't ready to give up, though. Determined to see justice is done, James changes tack...
See Previous episode Sacrifice. See Next episode Honour Bound.