Law & Order: UK - Series Two - Honour Bound
The cream of British acting talent are back together for the second series of the hugely successful 'Law & Order: UK'.
Employing the original series' iconic two-part structure that focuses first on the investigation of a crime at the police level and then shifts in its second half to the prosecution of the suspects, 'Law & Order: UK' approaches the format and characters from a uniquely English perspective.
Series Two : Episode Six : Honour Bound
Monday, 15 February 2010 9:00pm - 10:00pm ITV1 / ITV1 HD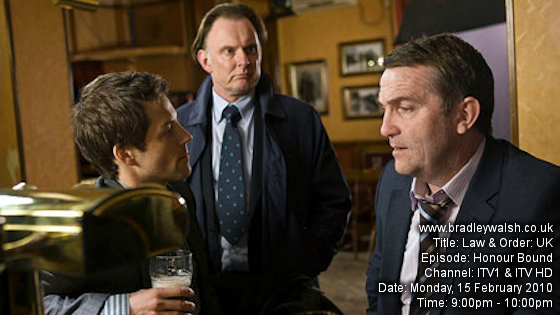 DS Ronnie Brooks' drunken past comes back to haunt him and could cost him his job in the final episode of this crime drama series. And the beginning of what could be the end for Ronnie comes about because he does the decent thing and helps out his old partner, DS Jimmy Valentine (Robert Glenister - Hustle, Spooks). Jimmy asks Ronnie to go undercover with him to help collar a drugs dealer. But when Jimmy shoots the dealer Internal Affairs starts asking questions...

Jimmy claims he shot in self-defence but neither Ronnie nor DS Matt Devlin saw the dealer pull a gun. Ronnie's sure his mate Jimmy wouldn't lie but Matt doesn't share his confidence. Senior Crown Prosecutor James Steel sides with Matt and, with the evidence stacked against Jimmy, he is put on trial. But the investigation has also uncovered some disturbing details about Ronnie's policing 10 years ago, when he was a sopping wet alcoholic - in particular, a drug case where a lot of heroin went missing.

James faces a fine defence barrister in Evelyn Wyndham (Anna Chancellor - Suburban Shootout, Spooks) and wants Ronnie to testify against Jimmy but Ronnie refuses. His loyalty is admirable but ultimately foolish as Jimmy turns on him in court. There's only one person who can clear Ronnie - and she'll pay a heavy price if she testifies...
See Previous episode Love and Loss. See Next series Broken