Spin Star
Bradley Walsh presents Spin Star, an exciting new quiz that brings the thrills, unpredictability and big money gamble of the casino into a game show studio. Dominating the stage is the Moneyspinner - an enormous Las Vegas-style, five-reel slot machine.

On the reels of the Moneyspinner are cash, questions and the names of the five contestants who will be answering those questions. Correct answers could build up a prize pot worth hundreds of thousands.

But none of these five people will be winning a single penny on the show. Instead, they are trying to win it for one other person… today's Spin Star; the person who's in charge of the giant slot machine. The five contestants will want to do their very best though, because one day they'll all get their turn to pull the handle of the Moneyspinner.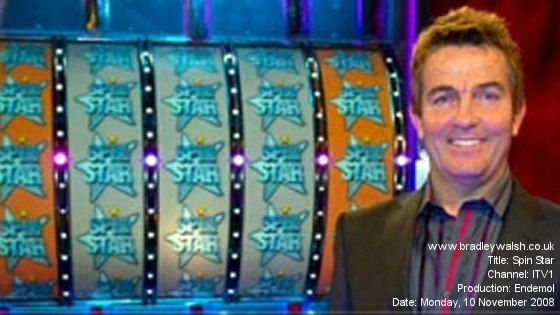 At the end of each game the Spin Star will be leaving, hopefully with a huge cash prize, and the following day one of the other contestants will become the Spin Star. So everyone returns, day after day, until it is their turn to be the Spin Star.

Bradley says: "I am delighted to be presenting Spin Star. It's such an incredibly entertaining show with lots of surprises in store for the contestants and viewers.

We really get to know the contestants and I am sure the viewers will feel their pain on losing and their joy on winning."

Spin Star sees huge shifts in fortune, big gambles, against-the-odds victories, and sudden and devastating losses – all within seconds of each other.