Midas Touch
At the beginning of each show, there are five contestants, each one attempting to win the bar of gold at the top of the pyramid worth £5000.

The players start at the bottom of the pyramid where there are five screens, one for each player. They are asked a question which they need to guess the answer. Each player would answer their guesses on keypads, the screens display their answers. The two players who were furthest out would have to compete in a game to see who stayed in.

The games would usually involve knockabout games involving dressing up, gunge and a little skill. The games were loosely based on the show's weekly theme. The winner would go through to the next round, the loser went home with nothing.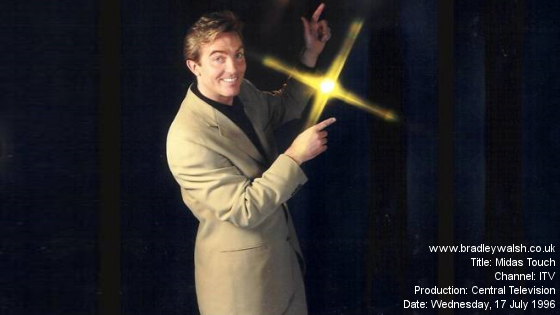 The remaining players were allowed to climb up to the next set of screens on the pyramid, and the process was repeated a further two times until there were only two people left.

Finally the last two players would play a Bank Raid game for the gold. Race up to the top of the pyramid but on the way, tap in random numbers on each level until you find the correct code number. On the fourth floor, they would input the three numbers they had just found to form a code. Whoever found the correct three-digit code first was the winner.