Law & Order: UK - Series One - Paradise
Law & Order: UK' makes its long-awaited debut in the UK, meting out justice on the country's crinmals in this brilliant reimagining of the Emmy award-winning US drama.
Employing the original series' iconic two-part structure that focuses first on the investigation of a crime at the police level and then shifts in its second half to the prosecution of the suspects, 'Law & Order: UK' approaches the format and characters from a uniquely English perspective.
Series One : Episode Six : Paradise
Monday, 30 March 2009 9:00pm - 10:00pm ITV 1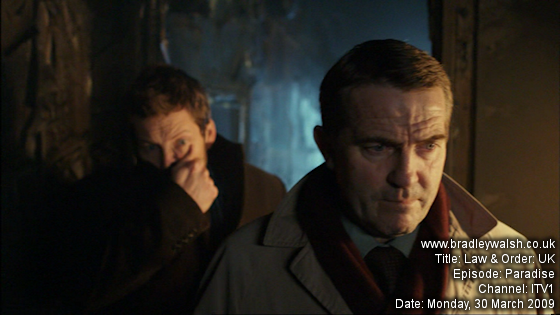 Prosecutor James Steel has to put one of his oldest and closest friendships under scrutiny in this week's particularly gruesome case. It starts with a horrific arson attack on a Turkish social club in which 17 people die.

DS Ronnie Brooks and DS Matt Devlin, with Detective Inspector Natalie Chandler, investigate the possibility of the mass murder being a racist attack. But they soon uncover evidence of something much more complicated than a hate crime, which includes fake identities and a devious arsonist.

Their investigation stumbles when they need to operate on a suspect to remove an important piece of evidence from their body. Barrister St John Artemis is opposed to such surgery and even the police aren't 100 per cent sure that the evidence will help them catch the murderer.

The police do find and arrest the arsonist but that's not the end of the case by a long way... James and his colleague, Alesha, aren't convinced the fire-setter was working alone and that's when James finds himself face to face with one of his oldest friends, Faruk Osman. Could Faruk really be involved in a crime that has killed members of his own community? As James takes on defence barrister Michaela Herman, he has to decide just what comes first: friendship or the truth?