Law & Order: UK - Series One - Care
Law & Order: UK' makes its long-awaited debut in the UK, meting out justice on the country's crinmals in this brilliant reimagining of the Emmy award-winning US drama.
Employing the original series' iconic two-part structure that focuses first on the investigation of a crime at the police level and then shifts in its second half to the prosecution of the suspects, 'Law & Order: UK' approaches the format and characters from a uniquely English perspective.
Series One : Episode One : Care
Monday, 23 February 2009 9:00pm - 10:00pm ITV 1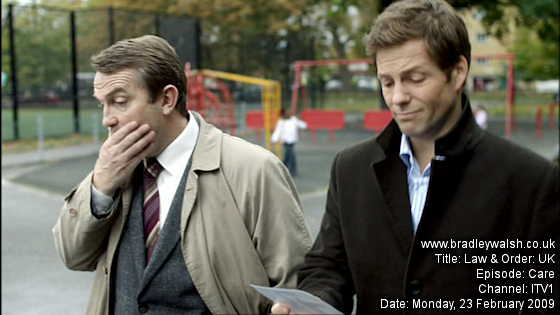 When the evacuation of a central London hospital leads to the discovery of a baby's tragic death, DS Ronnie Brooks and DS Matt Devlin investigate. The trail leads them to Kings Cross, where the redevelopment and gentrification of the area is affecting a number of local residents. But has this led someone to commit murder?

Single mother Dionne Farrah has gone missing and the trails leads them to her sister, Leona. Further investigation raises doubt around caretaker Daniel Matoukou or the sinister neighbour Mike Turner. How are they connected to the events surrounding the death? And how has the case affected landlady Maureen Walters? As DI Natalie Chandler pressurises Matt and Ronnie to untangle the case, a disturbing pattern emerges...

When a suspect is arrested, Crown Prosecutors James Steel and Alesha Phillips face an uphill struggle convincing the head of the Crown Prosecution Service, London, George Castle that their case is strong enough. Complicating matters further is their sharp-suited, mercury-minded opponent Robert Ridley QC. Devious and without the burden of principles, Ridley uses every trick in the book to get his client off.

With an Old Bailey trial on the verge of collapse, and pressure increasing from their boss, James and Alesha must team up with Matt and Ronnie to gain enough evidence, get the better of Robert Ridley QC and convict the person responsible for this tragic death.
See Next episode Unloved.