Dangerous Adventures For Boys
Dangerous Adventures For Boys, is a six-part series of hour-long programmes, that turn the best-selling book, The Dangerous Book for Boys, into a new factual series. Celebrity dads and their sons will go on exciting expeditions to experience iconic, Boy's Own adventures.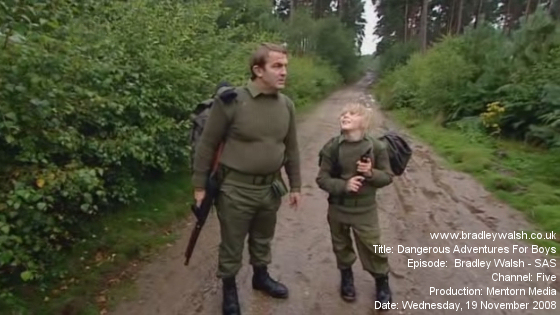 Infused with the spirit of the best-selling book, the sons will follow in the footsteps of their dads' childhood heroes such as: The SAS, The Dambusters, Captain Scott, Nelson and The Black Knight.

Bradley Walsh and his ten-year-old son, Barney, learn what it was like to serve in the SAS during World War Two. The pair undergo intensive training in survival techniques, vehicles and firearms before being pitched into the middle of a thrilling war-game exercise.

Bradley and Barney Walsh learn first-hand what it took to be an elite soldier in the Second World War. Barney is excited by the prospect of teaming up with his dad in the challenge, although he admits, "I don't really know much about World War Two." For Bradley, it is an opportunity for some father-and-son bonding, and a way to learn more about the SAS. "The SAS are my heroes," he affirms. "Not only are they determined, they're brave – they're tough men."
The SAS was founded in 1941, they conducted crucial missions behind the enemy lines in World War 2, destroying the German infrastructure and liaising with the French Resistance to co-ordinate Allied bombing raids. To get an idea of the service's distinguished history, The Walshes meet Lofty Wiseman, the youngest ever SAS recruit. Now in his late 60s, Lofty served for 26 years in places as far afield as the Middle East and Borneo. "Our job was reconnaissance, information and getting it back," he says. "It was not always an aggressive role, you see."

Bradley and Barney begin their practical training by getting to grips with the essential SAS vehicle – a Willys Jeep. To make this rugged vehicle as fast as possible, the SAS often stripped it of its safety features – including the windscreen. Bradley practises in a modern version of the jeep by slithering down steep hills and roaring up tough inclines, before switching to a classic 60-year-old Willys.

Next up, the boys are given a crash course in survival techniques, learning to build a shelter, light a fire and camouflage themselves – although Barney's comments are not always helpful. "Dad, you'll never be good at camouflage because your big fat belly will stick out all the time," he says. After learning how to 'monkey run' on their hands and knees, the pair practise their shooting skills on the firing range.

Bradley and Barney are almost ready for their assignment – but before they begin, they recall Lofty's words of advice regarding the legendary motto, 'Who Dares Wins'. "The biggest thing is your mind," Lofty reminds them. "Never give in – that's what it means." Lofty's parting gift to the new recruits is to teach them the wartime code signal used by the SAS, which was to whistle the tune of 'Sur le Pont d'Avignon'.

Training over, the boys now face their greatest test – a war-game scenario in which they are parachuted' behind enemy lines. Tramping through countryside reminiscent of Normandy, Bradley and Barney must locate their jeep, then find and capture the enemy HQ. But their mission almost comes to an abrupt end when they are spotted by German soldiers. "We can't get captured here!" cries Bradley.

Having given the patrol the slip, father and son reach their French Resistance contact. The boys recover their jeep and are about to pick up a fuel canister when they are attacked by yet more Germans. After a narrow escape, Bradley decides they should camp for the night. But as the pair struggle to light a fire, their chances of surviving until morning seem slim. "Honestly, I think we're in serious trouble here," Bradley says. The boys start the next day keen to complete the mission, little realising that gunfire, explosions and car chases lie ahead of them. Will they make their SAS instructors proud and achieve their goal?