Wartime Wanderers
The War against Germany is about to be declared. In front of a 23,000 strong crowd at Bolton Wanderers ground, Burnden Park. Harry Goslin the young 28 year old captain gives a rousing speech before leading the entire team to the local Territorial Army drill hall where they all sign up. For the next six years, as gunners in the 53rd Field Regiment of the Bolton Artillery, they face some of the heaviest fighting of the Second World War in France, North Africa and Italy, and also establish themselves as a formidable regimental football team throughout the theatre of war. Of the full squad only one is killed in action - the remainder return home to their families and to their football careers.

But this is much more than a war story. It is much more than a football story.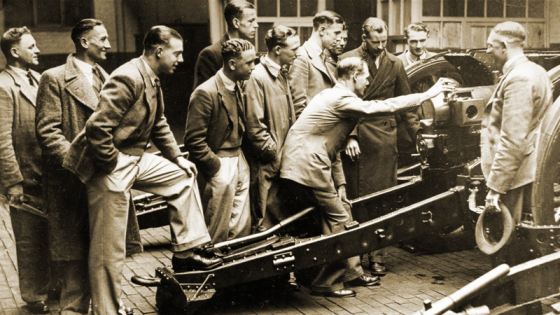 It is the story of three individuals: Ray Westwood, who is already a football star; his inseparable teammate Ernie Forest, whose ready wit carries them through in the face of adversity; and Nat Lofthouse, who is still only a schoolboy when war intervenes to link their destinies. We also meet the women and girls in the lives of the team and follow Rayís and Natís touching love stories as the war shapes their futures.

This is the story of a team whose loyalty led them into a bloody world conflict, and whose indomitable spirit enabled them to survive it.

Most of all it is the story of a football club whose very existence is an essential part of a town's soul and the legendary group of men who kept it alive through the darkest of days.

Cast include, Rupert Grint (from Harry Potter films) as Ernie Forrest, Jonathan Pryce (from Pirates of the Caribbean) as Charles Foweraker, Matthew McNulty (Silent Witness, Lark Rise to Candleford, Law & Order UK) as Ray Westwood, Sean McGuire (Eastenders, Bedlam) as Harry Goslin and Bradley Walsh as Regimental Sergeant Major Hawarden.

The current schedule for filming is for Autumn 2011.