The Sarah Jane Adventures
Rani Chandra, a would-be journalist, moves into the Jackson's old house with her mother and father, who is the new school head. Children have been disappearing and Rani suspects the appearance of a clown at the school is significant. In fact the last two to go missing had tickets to the Museum of the Circus, which Sarah Jane, Rani and the boys investigate. It is run by Elijah Spellman (Bradley Walsh), a smilingly sinister figure, who sets clown robots on the group, though Sarah Jane uses her sonic lipstick to immobilise them. The group escape after Spellman (Bradley Walsh) has turned first into the Pied Piper (Bradley Walsh) and then into Odd Bob (Bradley Walsh) the clown.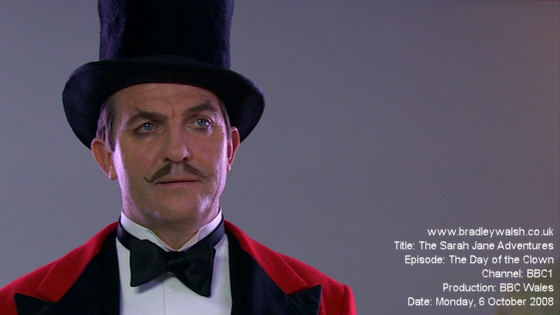 After Sarah Jane has told Luke she has a fear of clowns dating from a childhood incident, balloons rain from the sky into the school playground. Children who touch them fall under Odd Bob's (Bradley Walsh) spell but Clyde, using his mobile phone, breaks the contact, releasing the children. Odd Bob (Bradley Walsh) captures Luke, forcing Sarah Jane to overcome her phobia as she sets out to rescue him but ultimately Clyde tricks Odd Bob (Bradley Walsh) and puts him into an impenetrable box.