Charity Golf Classic
Celebrities and teams headed to Parque da Floresta in Portugal on the 9th July 2009 to participate in the annual event, now renamed the Charity Golf Classic (was David Seaman Safehands) and was broadcast on Sky Sports. It was held in aid of the Paul Southgate Research Fund, the fund established in memory of Paul, a former president of golf club, who sadly passed away in June 2008. The charity is dedicated to raising vital funds for research into head and neck cancer and cancers affecting children and young adults. These are cancer types that are significantly underfunded and poorly studied compared to other cancers.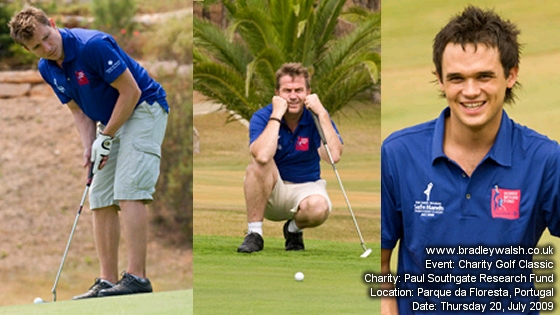 The prestigious golf event held at one of Portugal's finest golf courses, allowed players to raise essential funds for charity. Golf enthusiasts socialised and played alongside celebrities from the world of sport and entertainment in the four day programme and two-day golf competition. It took place from Thursday 9th to Sunday 12th July and consisted of 20 teams of three players with each team being joined by a different celebrity each day. Celebrities included actor and funny man Bradley Walsh, fellow Law & Order: UK star Jamie Bamber, TV presenter Ben Shephard, ex footballer and TV presenter Bob Wilson OBE, actor Johnny Briggs MBE, ex footballer Steve Bull MBE, Rugby World Cup winners Jason Leonard MBE and Kyran Bracken MBE and singer Gareth Gates, to name but a few. The Charity Golf Classic follows in the footsteps of the Safe Hands Charity Golf Classic, organised by Debbie Seaman, and provides much needed funds to support various charities. Previous recipients have been the NSPCC, the Willow Foundation, the Bobby Moore Fund for Cancer Research UK, the Rhys Daniels Trust and the Cystic Fibrosis Trust. Funds for these charities have totalled in excess of £900,000! 2009 was the first year that the Charity Golf Classic supported the Paul Southgate Research Fund, which raises money for critical research at University College London (UCL). 5000 people in the UK each year are diagnosed with head and neck cancers which accounts for approximately 5% of all cancers diagnosed. Only 50% of patients survive for 5 years. Unfortunately the survival rate has not significantly increased in over a decade. This is why more money for research at UCL's cancer initiative is so desperately needed. Funds raised were used to characterise genetic abnormalities, to study the genetic basis of head and neck cancers and to identify potential novel drug targets in cancers affecting children and young adults.