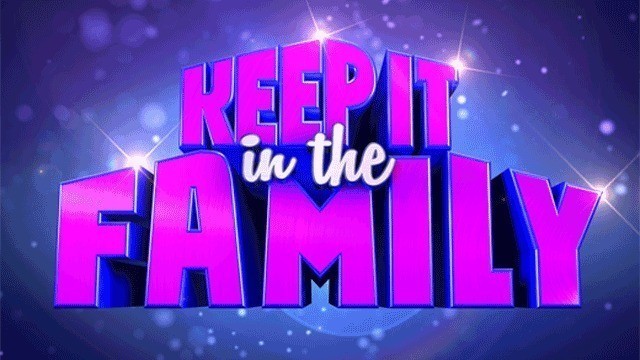 The popular family game show Keep It In The Family returns for second series to ITV
Keep It In The Family the fun family-orientated game show, is to return to ITV for a second series later this year.
The seven part series – hosted once again by TV favourite Bradley Walsh – will challenge three generations to go head to head to win a host of incredible prizes.
The second series also sees the return of The Nanas, who, with their combined age of 486 will be on hand to give their unique perspective and wisdom on modern phrases and topics, as well as the chance for families to drop famous faces through the dreaded trapdoor.
Last series a host of celebrities from Coronation Street, McBusted, X Factor, I'm A Celebrity…Get Me Out Of Here! Emmerdale and cast from Benidorm took the fateful drop as they attempted to help the families solve a series of puzzles to win big prizes.
David Hall, Executive Producer ITV Studios said: "We're beyond happy that 'Keep It In The Family' is returning for a second series on ITV. The mix of Bradley, our irrepressible Nanas, funny games, dressing people up in outrageous and hilarious costumes, and dropping the nation's favourite celebrities was a winning combination, and we're very much looking forward to doing it all again this year".
Nigel Hall, Managing Director of Over The Top Productions, said, "I am delighted Keep It In The Family is returning on ITV. Now we all can't wait to get back into the studio with the one and only Bradley Walsh."
Keep It In The Family is an ITV Studios and Over The Top co-production for ITV. The series was commissioned by Elaine Bedell, Director of Entertainment and Comedy, ITV and Kate Maddigan, Commissioning Editor Entertainment, ITV. The executive producers are David Hall, ITV Studios and Nigel Hall, Over The Top Productions.
Want to take part on Bradley Walsh's fun-filled family game show?
This entertainment show sees two families of four, including grandparents and children go head to head in a whole host of fun-filled games, for the chance of winning some fabulous prizes for the whole family.
If your family is bursting with confidence, fun and energy then we would love to hear from you!
All you need to do is download, complete and return the form below.
Click to download: Application Form
Return by e-mail to: tvfamily@itv.com
Applications closing date: 27th April 2015
Audition/Casting period: TBC
Age restriction applies: You must be at least 18 years of age and have 3 other family members who would like to take part. Due to the nature of the programme, your Family should consist of 3 or more generations with at least 1 child aged between 9-11 years of age*(inclusive), and at least 2 adults aged 18 years or older.
Terms and Conditions: Full Programme Recruitment/Application Terms and Conditions apply. See Application Form for programme specific details
*We have restricted the child's age range so that the games can be tailored properly, and we do not want to put children in a position where the games are too difficult or too easy and/ or have children of vastly differing ages competing against each other.