Wife's New Shoes Tour – An Evening with Bradley Walsh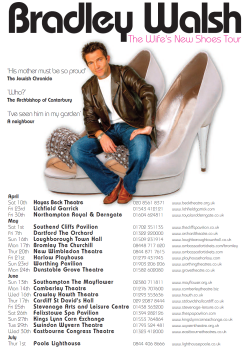 For this fantastic show Bradley will be cutting loose with his own brand of stand-up comedy in which he will be casting a gaze on the ordinary and making it hilarious. Get your tickets early for an evening of laughter and fun you'll long remember.
The show mixes observational comedy, with tales of his life in showbiz including many antics involving comedy friend Joe Pasquale, and some jazz songs with the backing of the Alan Rogers band.
The Wife's New Shoes title is nothing other than a quip used on the phone to Bradley's manager. He took the words literally and had the posters printed up.
Donna, Bradley's wife can be seen with up and down the country with shopping bags on her arm.
| | | |
| --- | --- | --- |
| Saturday 10 April 2010 | 7:30PM | Beck Theatre, Hayes, Middlesex, UB3 2UE |
| Friday 23 April 2010 | 7:30PM | Lichfield Garrick, Main Theatre Lichfield, WS13 6HR |
| Friday 30 April 2010 | 8:00PM | Derngate, Northampton, NN1 1DP |
| Saturday 1 May 2010 | 8:00PM | Cliffs Pavilion, Southend, SS0 7RA |
| Friday 7 May 2010 | 7:45PM | The Orchard, Dartford, DA1 1ED |
| Sunday 16 May 2010 | 7:30PM | Loughborough Town Hall, Loughborough, LE11 3EB |
| Monday 17 May 2010 | 7:30PM | The Churchill, Bromley, BR1 1HA |
| Thursday 20 May 2010 | 7:30PM | New Wimbledon Theatre, Wimbledon, SW19 1QG |
| Friday 21 May 2010 | 8:00PM | Playhouse, Harlow, CM20 1LS |
| Sunday 23 May 2010 | 7:30PM | Pavilion Theatre, Worthing, BN11 3PX |
| Monday 24 May 2010 | 7:30PM | Grove Theatre, Dunstable, LU5 4GP |
| Sunday 13 June 2010 | 7:30PM | The Mayflower, Southampton, SO15 1GE |
| Monday 14 June 2010 | 7:30PM | Camberley Theatre, Camberley, GU15 3SY |
| Wednesday 16 June 2010 | 7:30PM | The Hawth, Crawley, RH10 6YZ |
| Friday 25 June 2010 | 8:00PM | Gordon Craig Theatre, Stevenage, SG1 1LZ |
| Saturday 26 June 2010 | 7:30PM | Spa Pavilion Theatre, Felixstowe, IP11 2DX |
| Sunday 27 June 2010 | 7:30PM | Corn Exchange, King's Lynn, PE30 1JW |
| Tuesday 29 June 2010 | 8:00PM | Wyvern Theatre, Swindon, SN1 1QN |
| Wednesday 30 June 2010 | 7:30PM | Congress Theatre, Eastbourne, BN21 4BP |
| Thursday 1 July 2010 | 7:30PM | Lighthouse, Poole, BH15 1UG |
(Visited 2,948 times, 1 visits today)