Vinnie Jones In Conversation With Bradley Walsh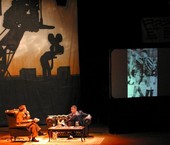 Bradley Walsh is an old friend of Vinnie Jones, and was there when Michael Aspel gave Vinnie that Red Book on This Is Your Life, November 30, 2000.
For one unforgettable evening, Vinnie Jones, football's famous hard man turned critically acclaimed actor is coming to a town near you this autumn talking to comedian Bradley Walsh.
Hear him talk about all his exploits, from his humble beginnings as a builder carrying a hod full of bricks on his back, to the professional footballing days, as a high profile member of the FA Cup winning Wimbledon FC team.
His tough reputation led to unexpected opportunities…
…and he is now just as famous for his acting as he is for his skills on the pitch. After his award winning debut in Guy Ritchie's 'Lock, Stock and Two Smoking Barrels', Hollywood beckoned. In a short period of time, Vinnie has stared in 'Gone in Sixty Seconds', 'Swordfish', 'Snatch' and 'Mean Machine' alongside the likes of Brad Pitt, John Travolta, Nicholas Cage, Halle Berry and Angelina Jolie, to name but a few.
After his stunning stage debut at 'The Royal Variety Performance' last year, Vinnie will now be unveiling the latest stage in his career, with the release of his new album, and will be performing material from it.
For what is certain to be an entertaining evening, Vinnie will be speaking frankly and openly about his experiences in top flight football, movie making, performing and in rubbing shoulders with his A-list celebrity friends. Sharing his experiences, he'll be showing video footage, including never seen before movie outtakes, and answering questions from the audience in what is certain to be an eye-opening experience!
For everything you wanted to know about Vinnie Jones but (until now) were afraid to ask, book your tickets now!
| Show Date | Show Time | Town & Venue |
| --- | --- | --- |
| 23 Sep 2002 | 8.00pm | Croydon Fairfield Halls |
| 24 Sep 2002 | 8.00pm | Northampton Derngate |
| 25 Sep 2002 | 7.30pm | Cambridge Corn Exchange |
| 26 Sep 2002 | 8.00pm | Stoke on Trent Victoria Hall |
| 28 Sep 2002 | 8.00pm | Southend Cliffs Pavilion |
| 29 Sep 2002 | 7.30pm | Cardiff St David's Hall |
| 30 Sep 2002 | 8.00pm | Crawley The Hawth |
| 1 Oct 2002 | 7.30pm | Llandudno North Wales Theatre |
| 2 Oct 2002 | 7.30pm | Chatham Central Theatre |
(Visited 587 times, 1 visits today)