The summer of 2005 witnessed the first ever nationwide tour of Granada TV's 'Stars In Their Eyes Live!' After 14 years of huge television popularity, the stage production of one of the most successful talent shows of all time finally toured nationwide.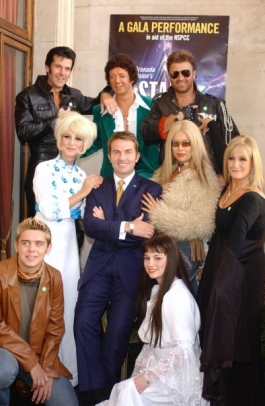 Complete with live band, singers, dancers and of course the talented people who have 'Stars In Their Eyes'.
The Stars such as Elvis, Tom Jones, George Michael, Ronan Keating, Anastacia, Dusty Springfield, Kate Bush, Connie Francis and Barbara Striesand will emerge through the magic doors.
The theatre audience was given the opportunity to choose the artist they wanted to hear again; the artists they want to hear duet together and even decide which songs they want them to perform.
Bradley also sang on a soap special Celebrity Star In Their Eyes.
A sensational show full of great classic and contemporary songs, 'Stars In Their Eyes Live!' got the audience dancing in the aisles – a real fun evening for all the family.
(Visited 1,086 times, 1 visits today)