UNICEF ambassador Robbie Williams enlisted the help of his celebrity pals to take part in this year's Soccer Aid event, held at Old Trafford on 6 June 2010.
The event was broadcast live on ITV1 on 6 June, with a post match review "Extra Time" on ITV4.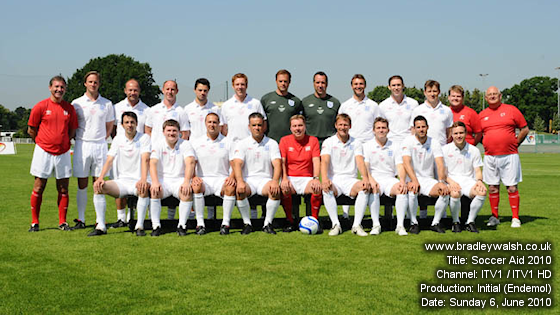 Two star-studded squads of footballing legends and celebrities from England and the Rest of the World took on one another in an electrifying football match all in aid of UNICEF, the world's leading children's organisation.
The brainchild of Robbie Williams and UNICEF UK, this year's event was hosted by Dermot O'Leary, and the stars included actor and TV presenter Bradley Walsh, GMTV's Ben Shephard, comic genius James Corden, world-famous chef Gordon Ramsay, presenter and DJ Jamie Theakston and actor Jonathan Wilkes.
Comedian Patrick Kielty, boxing hero Ricky Hatton, Irish super group Westlife, actor Damien Lewis and cricketing legend Brian Lara alongside footballing heroes Alan Shearer, David Seaman, Tony Adams, Teddy Sheringham, Jamie Redknapp and Henrik Larsson were also on the pitch.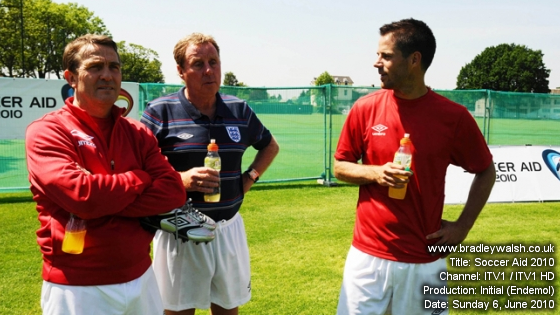 Tickets were sold in aid of the Charity for fans to see their favourite stars take to Old Trafford's hallowed turf. Announcing the match, UNICEF Ambassador Robbie Williams said: "I am so excited that Soccer Aid is back, and at Old Trafford once again. I have such amazing memories of my last game at Old Trafford. It will be a great time for football, with World Cup fever at boiling point, and there's never been a better time for us to show our support for UNICEF given the recent tragedies affecting children around the world. I hope the whole country will join me and support this fantastic event in June 2010."
Money raised through the profits from ticket sales and donations made by viewers during the match will go to UNICEF's invaluable work helping children around the world. This was the third Soccer Aid event, with the previous matches, held at Old Trafford in 2006 (when Bradley was on the wining side beating the "Rest of the World Team" 2-1) and Wembley in 2008, raising almost £6 million in total for UNICEF's work.
UNICEF UK's Director of Communications, Victoria Rae said, "Soccer Aid 2010 will raise crucial money for UNICEF to help children around the world. Every minute of every day, children die from common diseases like measles, diarrhoea and malaria. Millions of children don't go to school, have food, shelter or clean water.
Children all over the world suffer from violence, abuse and discrimination, are forced to work in dangerous conditions and denied the chance to play. This is wrong and the money raised from Soccer Aid will help to put it right."
Watch the highlights from Soccer Aid 2006.
(Visited 585 times, 1 visits today)