Royal Masonic Variety Show
Bradley Walsh was asked to perform on the 14 October 2001 at the Theatre Royal, Drury Lane for the Royal Masonic Variety Show hosted by Jim Davidson.
After the success of the 2001 show, Bradley returned for the 2002 show where he was the compere introducing the likes of Brian Conley, Roger De Courcy, Jim Davidson and Lesley Joseph.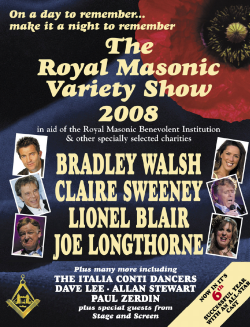 On Sunday 9th November 2008 at The Prince of Wales Theatre, Leicester Square, London.
Staring:
Bradley Walsh
Claire Sweeney
Lionel Blair
Joe Longthorne (Did not perform due to illness)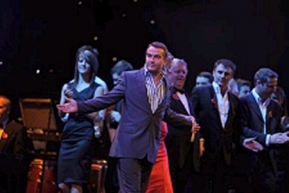 Other performers included: Paul Zerdin, Will Corujo, Safire, Simon Bowman, Danny Bayne, Joe Tracini, Michael Quinn, Joe Smith, Dave Lee, Keith Skues, The Christians, Jason Woods, John Moloney, Ben Ellis, Matt Thomas, Sean Parkins, Eloise, The Italia Conti Dancers and the 13-piece Trevor Brown Orchestra.
Tickets were sold from £30, with monies raised going to various selected charities, Royal Masonic Benevolent Institution, Abandoned and Destitute Children's Appeal Fund and Children with Cerebral Palsy. All the artistes taking part gave their services free.
(Visited 707 times, 1 visits today)