In an effort to stem the declining sales of fresh fruit and vegetables and to enthuse a public jaded by sermonising on the subject, the Fresh Produce Consortium hired Hammond Communications to come up with a £500,000 creative marketing campaign.
The objective of the Get Fresh campaign was to shift the perception of fruit and vegetables from that of a penance food to being satisfying and enjoyable, and in the process reversing the current drop in fresh produce sales.
The campaign started with a two month stand-up comedy roadshow starring Midas Touch's Bradley Walsh and Pulp Video's Parrot. This was the first time a live comedy act had been used to convey a healthy-eating message in the UK, and it became the central platform of the campaign.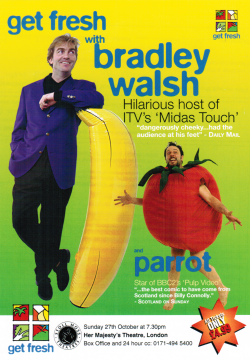 A massive pre-publicity drive used flyers, posters, radio and newspaper promotions. In advance of each performance, a series of media interviews was organised to promote Get Fresh and invitations were sent to key regional media and food, consumer, health and beauty, and entertainment reporters.
Launched on 25 August 1996 in Bristol, the cabaret show played Sunday evenings in Bristol, Leeds, Newcastle, Manchester, Birmingham, Belfast, Glasgow and London. Apart from being entertained by jokes and songs, the audience received humorous eating advice while being bombarded by fresh produce. Branded leaflets explaining the Get Fresh philosophy, £1 off vouchers redeemable at Tesco s and Stewart's and free fresh produce samples were also distributed.
Bradley Walsh and Parrot played to packed houses reaching a total of 7,500 people. Tickets for the show was only £4.99, with other seats being offered to winners of local radio and newspaper promotions. The Daily Mail reviewed the show as "dangerously cheeky… had the audience at his feet".
(Visited 418 times, 1 visits today)