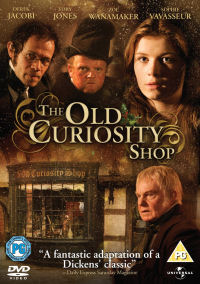 DVD of the ITV drama from 2007. Dickens' classic novel The Old Curiosity Shop is being brought to life with an all star cast, Sophie Vavasseur, Derek Jacobi, Toby Jones, Adrian Rawlins, Gina McKee, Anna Madeley, Martin Freeman, Steve Pemberton, Zoe Wanamaker, Bradley Walsh and Josie Lawrence.
Little Nell Trent (Sophie Vavasseur) lives with her doting grandfather (Derek Jacobi) in his London shop. It is a magical place, filled from wall to wall with dust-laden treasures, known as The Old Curiosity Shop.
This title was released on November 8, 2010 (US Region 1 May 5, 2009).
(Visited 524 times, 1 visits today)