Bradley Walsh's Soccer Shockers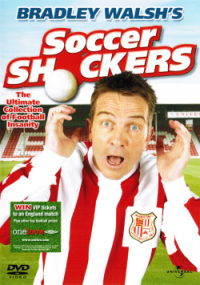 Soccer Shockers is packed full of football cock-ups and moments of madness. It's all here; from goal-keeping nightmares and missed open goals, to tantrums, refereeing foul-ups, back-pass howlers and more.
With great action from today's star players and matches around the world, Bradley Walsh's Soccer Shockers leaves no player safe from joining the football hall of shame. This is the soccer horror show the players won't want you to see!
Special Features
Behind the scene – Photoshoot
Out-Takes
Competition
This title was released on November 20, 2006.
(Visited 603 times, 1 visits today)