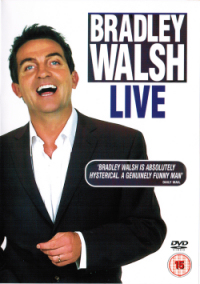 Comedian Bradley Walsh filmed live in the Orchard Theatre in Dartford in September 2004.
Join Bradley Walsh for the first time ever on DVD as he delivers an energetic and fantastically animated live comedy performance filmed at the Orchard Theatre in Dartford.
Already a star in Britain's longest running TV soap, this DVD features all the comic elements that have made Bradley a top stage and television comedian.
Mimicking and exaggerating everyday situations, Bradley will have you in fits of laughter from start to finish. No holds are barred in this strictly adult routine!
This title was released on November 22, 2004.
(Visited 1,483 times, 1 visits today)